Get the "Honky Tonk Chronicles" Album Today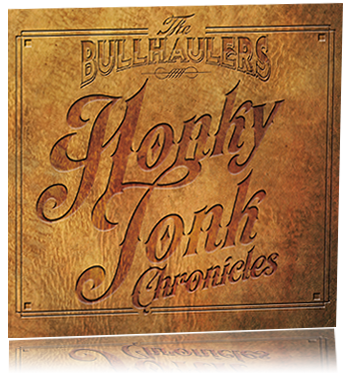 "Honky Tonk Chronicles" from The Bullhaulers. Download your copy today on iTunes or Amazon!
Combining traditional and outlaw country with southern rock, The Bullhaulers are a hard hitting honky tonk band from Kansas City formed in 2008 by Justin Schoening (lead vocals and guitar), Joel Martin (lead guitar) and Russell Edgar (bass). Bill Larson (drums) joined the band in 2009 and Jason Meyerkorth (fiddle) joined in 2011 to complete the current line-up.
Influenced by country artists like Waylon Jennings, Merle Haggard & Charlie Daniels and rock artists such as Bob Seger and the Marshall Tucker band, the group has played honky tonks, fairs, and festivals throughout the Midwest, sharing the stage with national acts such as Turnpike Troubadours, Billy Joe Shaver,  Chris Knight, Whitey Morgan, and many others.
        The Bullhaulers have released one album of original material titled "Honky Tonk Chronicles", which receives airplay on many independent radio stations across the country.  It is available for purchase on iTunes and Amazon Music and is also availalbe on streaming services such as Pandora, You Tube & Spotify.